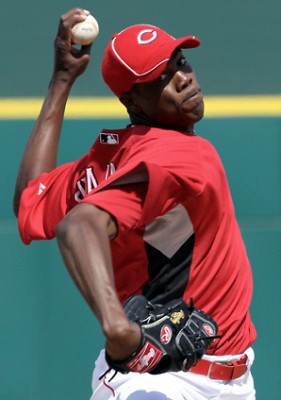 2012 IAL ROOKIE DRAFT REVIEW
1)  TWIN CITY THUNDERCHICKENS: Jeremy Hellickson P: This young righthander throws four pitches for strikes.  He is a pitcher, in every sense of the word.  Posting numbers that resulted in a B-Z grade.  His best pitch is his changeup.  Still I am not a fan.  I tend to shy away from righties without strikeout letters, ever since I was burned when I chose Dave Rozema over Ron Guidry, Oops!
2)  THREE RIVERS GAMBLERS: Michael Pineda P: This big kid gets the strikeouts that Hellickson doesn't.  So you'd think I'd be all over this guy with a major man crush, but an early season trip to the DL has me concerned.  Yet you have to love this guy's stuff.  When healthy he can dominate, also should get lots of run support pitching for the Yankees.
3)  CHICAGO HIGHLANDERS: Brett Lawrie 3B: Lawrie is a righthanded hitting version of Larry Walker.  Brett playing thirdbase makes him even more valuable than Walker.  This Canadian can flat out rake!  Best hitter in the draft & he can steal bases too.
4)  KENTUCKY KERNELS: Greg Holland P*: The Kernels are competing and getting this filthy reliever might be the missing piece to get Keith another ring.  Holland has it all!  With Andrew Bailey hurting, Greg might be Kentucky's closer of the future.
5)  CHICAGO CHAMPIONS: Eric Hosmer 1B: Going into the draft, Lawrie was the #1 hitter available, with Hosmer being #1A.  Eric has a great makeup!  He reminds me of Joey Votto.  With Morneau still battling post concussion symptoms & El Caballo getting a little long in the tooth, Hosmer shows up just in the nick of time.
6)  RISING BAMM BEANOS: Ivan Nova P: They wanted Lawrie, but when he was gone, they decided to retool to compete for a playoff slot, anything can happen.  Nova is a big guy, who throws hard, being supported by the Yankees bats can't hurt.  Ivan is a nice piece to round out a rotation.
7)  GREEN ROCK BOMBERS: Danny Espinosa 2B: Espinosa is a power hitting switch hitter, who plays 2B.  He also steals bases.  Due to his obscene strikeout rate, he'll never hit for average, although he does draw some walks.  Also Danny is a converted SS, who can really field.
8)  MOLLY PUTTS MARAUDERS: Vance Worley P: Other than his grade of B, I see nothing impressive about this guy.  His fastball tops out in the low 90s & he throws an average slider.  Worley is not a top ten pick, IMHO.
9)  NORTHSIDE HITMEN: Jemile Weeks 2B: Rickie's little brother, yet his game is a lot different than his big bro.  He's a switch hitter, with good speed, and very little power.  I thought he was a good fielder, but he was only rated a 6.  Jemile has had trouble staying healthy.  Dustin Ackley would have been a much better choice!
10)         MOLINE UPPERDECKERS: J.P. Arencibia C: This kid has raw power!  He strikes out a lot & will never hit for average.  Arencibia will also never be better than a 7 on defense.  Wilson Ramos is head & shoulders above this guy.  Still J.P.'s pick makes some sense, as a backup to Mauer, he provides a power stick off the bench.
11)         TWIN CITY THUNDERCHICKENS: Jason Kipnis 2B: Kipnis is a converted outfielder, learning secondbase in the bigs.  That being said, this kid can hit!  I was surprised by Tom's pick of Jason, thought he'd end up being a Champ.
12)         THREE RIVERS GAMBLERS: Aroldis Chapman P*: The absolute steal of the draft!  It's a head scratcher that rebuilding teams would leave this Cuban out there to be gobbled up by a contender.  You can't teach a 100 MPH fastball!  The best pitcher in the draft, period!
13)         CHICAGO HIGHLANDERS: Brandon Beachy P: Brandon has the stuff, knows how to pitch, and competes.  Beachy is a member of the Atlanta Braves rotation, which is always a plus.  He mixes his good change with his good fastball, and the results are good.
14)         CHICAGO HIGHLANDERS: Dee Gordon SS: Everyone seemed to have SS covered, which left him out there for Rob.  Moore's draft of Lawrie & Gordon, reminds me of his draft of Beltre & Tejada, nice!  Dee is the son of reliever Tom "Flash" Gordon, and he can fly.  Gordon is a tremendous athlete, I see him developing power as he matures, outstanding selection!
15)         CHICAGO CHAMPIONS: Mike Moustakas 3B: Moustakas was rated as a higher prospect than KC teammate Hosmer.  Now both rookies are both on the Champions.  While Eric is a little ahead of Mike right now, both have huge futures in Chicago.  This lefthanded hitter has plus power and makes solid contact.
16)         RISING BAMM BEANOS: Cory Luebke P: Like I said before, John decided to compete.  But getting Luebke might be another case of getting another piece to the rotation.  In today's game, you can never have too many good arms.  This lefthander knows how to pitch, can strike hitters out, and pitches in a pitcher friendly ballpark.
17)         MOLINE UPPERDECKERS: Kenley Jansen P*: Marc loves hard throwers & Kenley throws hard!  I was looking at Jansen as a possible replacement for Jose Valverde.  This guy is nasty!
18)         MOLLY PUTTS MARAUDERS: Wilson Ramos C: For a guy, who doesn't believe in quality backstops, he has a couple of the best young catchers in the business, in Posey & Ramos.  Wilson will be an 8, hits for average, and will launch 20 homers per year.
19)         NORTHSIDE HITMEN: Paul Goldschmidt 1B: Goldschmidt walks slowly & carries a big stick.  Paul has tremendous power, but will never hit for average.
20)         MOLLINE UPPERDECKERS: Dustin Ackley 2B: Here is another case of overkill.  Marc already has Todd Walker and now he adds Ackley.  Still hard to pass on the best secondbaseman in the draft, was hoping he might slip to me.
21)         TWIN CITY THUNDERCHICKENS: Aaron Crow P*: Crow is a hard throwing reliever in the mold of Jeff Reardon.  Aaron was drafted high as a starter by the Royals, but seems to have found his niche in the pen.
22)         THREE RIVERS GAMBLERS: Mike Minor P: Another member of the Atlanta Braves rotation, this lefty looks to be a good one.  Minor pitched for Vanderbilt, the same college that produced lefthanded ace, David Price.
23)         CHICAGO HIGHLANDERS: Jordan Walden P*: Walden has hit triple digits on the radar gun.  Yet his control is poor, as is his slider.  Still you can't teach speed.  He'll need to improve his control if he's going to be successful.
24)         KENTUCKY KERNELS: Hank Conger C: Conger has some skills.  Yet the Angels decided to send him down and pick up a catcher rather than give him a shot.  Maybe he's not ready or maybe he's just not that good.
25)         CHICAGO CHAMPIONS: Salvador Perez C: The Kansas City Royals thought so highly of this youngster that they signed him to a long term contract even though he only had 39 big league games under his belt.  Even though Perez suffered a knee injury, he remains a solid choice considering Victor Martinez also hurt his knee.
26)         RISING BAMM BEANOS: Matt Downs BAT: Matt Downs is officially the first whore pick of the draft.  Downs plays a variety of positions, none of them particularly well.  Truth be told, he's a hitter, who just might help get the Bamm Beanos into the playoffs.
27)         GREEN ROCK BOMBERS: Desmond Jennings OF: Green Rock needed a speedy outfielder after dealing B.J. Upton to his son Marc.  Jennings has some holes in his game, starting off strong, but slumping as weaknesses were exposed.
28)         MOLLY PUTTS MARAUDERS: Freddie Freeman 1B: Molly Putts went back to the Atlanta Braves organization for a hitter to go along with last year's selection of Jason Heyward.  Freeman is a clutch hitter, who is a Gold Glove caliber defender, and he'll draw a walk.  Although he doesn't have foot speed, this is a very nice pick, and he should be a starter at 1st for years to come.
29)         NORTHSIDE HITMEN: J.D. Martinez OF: Martinez is a doubles machine.  While he'll never be a super star, he's a solid hitter, who'll replace retiring Manny Ramirez.
30)         MOLINE UPPERDECKERS: Eduardo Nunez IF: Nunez is a super utility man.  This kid can play, but he's stuck behind Jeter, AROD, & Cano in the Bronx.  Still there's no arguing about the value of a versatile player like this saving picks.
31)         TWIN CITY THUNDERCHICKENS: Daniel Descalso IF: Descalso filled in at thirdbase for the Redbirds, but primarily he's a secondbaseman.  But even if Kipnis pans out, it still might be smart picking Danial, with ODOG getting up there in age.
32)         THREE RIVERS GAMBLERS: Vinnie Pestano P*: Vinnie had a nice year, has the same name as Todd's son, and might help get the Gamblers into the playoffs as the team's closer.  Can you say, one-year wonder?
33)         GREEN ROCK BOMBERS: Mike McKenry C: A bum, looking for a park bench.  McKenry didn't even make the top 30 prospects for the Buccos.  He isn't even a good backup, maybe he won't get a card.
34)         NORTHSIDE HITMEN: Javy Guerra P*: This reliever has balls, he's also developed a sinking changeup.  Guerra reminds me of a young Sergio Romo.  He will be a good replacement for Joakim Soria, he's a lot like him too.
35)         CHICAGO CHAMPIONS: Jose Altuve 2B: This little man got his chance last year and he's grabbed the starting keystone spot in Houston with both hands.  Altuve is a slick fielder and a sparkplug.  He's a fan favorite!
36)         RISING BAMM BEANOS: Steve Cishek P*: I propose a rule, if you can't pronounce his name, you can't draft him.  He has a sinking fastball & a fading changeup, a nice combination for a relief pitcher.
37)         MOLLY PUTTS MARAUDERS: Brent Morel 3B: Morel is a line drive, gap hitter, who is a good defensive thirdbaseman.  DonS used to collect shortstops, now it looks like he's collecting thirdbasemen, with Hanley moving to the hot corner, joining Kung Fu Panda.
38)         TWIN CITY THUNDERCHICKENS: Danny Duffy P: Another steal, when Tom announced, Duffy, there were a lot of obscenities muttered.  If everybody knew about this lefty, why was he still there at pick #38.  Danny is a lefty with a high 90s fastball, nice!  Sixth Kansas City Royals player taken in the draft.
39)         THREE RIVERS GAMBLERS: Josh Collmenter P: Josh got by with a funky motion as a rookie, usually these type of pitchers don't do it for long.  I'd be surprised if he's graded again.  Still, he might help get the Gamblers into the playoffs, roll the dice!
40)         CHICAGO HIGHLANDERS: Carlos Carrasco P: He's out for the year, so he'll only be around for one year.  Don't really understand taking a "dead guy" in the draft, but he'll be a draft pick next year.
41)         MOLINE UPPERDECKERS: Phil Humber P: The Upperdeckers are going for it, so taking Humber makes sense.  Phil is in the White Sox rotation and he has control, smart pick!
42)         MOLLY PUTTS MARAUDERS: Zack Britton P: If this guy can just hang on till the IAL gets rid of the pitcher's hitting card, DonS is smart like a fox!  Zack has good stuff and is a battler, if his arm can stay attached he might be a good one.
43)         TWIN CITY THUNDERCHICKENS: Steven Strasberg P: I'd say protecting Strasberg was a no-brainer, but after not protecting Jacoby Ellsbury last year, I don't know.  A very nice keep!
44)         KENTUCKY KERNELS: Mark Trumbo 1B: This big man carries a big bat, and he hits the ball hard.  With Pujols & Morales both on LAA, Trumbo is a man without a position.  Kentucky is going for it, Mark might provide a big bat off the bench at a key time, thinking ahead.
45)         GREEN ROCK BOMBERS: Adam Wainwright P: Here is another no-brainer.  Wainwright is a good one, but how long will it take for him to get his game back?
2012 IAL ROOKIE DRAFT GRADES
A+ HIGHLANDERS: Lawrie, Beachy, Gordon, Walden, Carrasco: Two superstars, Lawrie & Gordon will be lineup fixtures for years to come, Beachy is a solid starter, Walden is suspect unless he can harness control, and Carrasco is gone after this year, dead man walking.
A GAMBLERS: Pineda, Chapman, Minor, Pestano, Collmenter: Chapman is a legitimate ace, Minor is a solid starter, Pineda if healthy will be a good one, and anything beyond this year for Collmenter will be a bonus.
A CHAMPIONS: Hosmer, Moustakas, Perez, Altuve: Hosmer provides insurance in case Morneau can't bounce back, Moustakas is sizing up AROD's shoes, Perez looks to be this team's catcher of the future, and Altuve adds life at secondbase.
B+ UPPERDECKERS: Arencibia, Jansen, Ackley, Nunez, Humber: Ackley is a player, but blocked by Walker, Jansen is another power arm for the pen, Arencibia has power, but little else, Nunez is a super utility man, and Humber rounds out the rotation nicely for now.
B BAMM BEANOS: Nova, Luebke, Downs, Cishek: Nova & Luebke add rotation depth, while Cishek gives them another bullpen arm, and Downs is a bat off the bench.
C+ HITMEN: Weeks, Goldschmidt, Martinez, Guerra: Goldschmidt has big time power, Martinez is a doubles machine, and Guerra will be the closer here.  I've drafted Jerry Browne, Bump Wills, & Josh Barfield, glad Weeks was off the board to remove any temptation.
C KERNELS: Holland, Conger, Trumbo: Holland will step into Bailey's closer's role, Trumbo has nice power off the bench, and Conger has talent if given a chance to play.
C- THUNDERCHICKENS: Hellickson, Kipnis, Crow, Descalso, Duffy, Strasberg: Duffy is the real deal, Hellickson might be a #4 or #5 starter, Kipnis will be a 7 at best & has a good bat, Crow looks to be a solid reliever, Descalso has no future, and credit was given for Strasberg last year.
D+ MARAUDERS: Worley, Ramos, Freeman, Morel, Britton: Ramos was the best catcher in the draft & has a bright future, Freeman is a piece to build a ballclub around, Morel has a nice glove with doubles power, Britton has a future if healthy, and Worley has reached his peak & it's all downhill from here.
F BOMBERS: Espinosa, Jennings, McKenry, Wainwright: You get what you see in Espinosa & Jennings, McKenry is a bum, and Wainwright was just a protect.
2012 OVERLOOKED ROOKIES
1: OF Lucas Duda: He may never be more than a 1, but he'll always have a 1.  This kid can hit!
2: P Henderson Alvarez: The sky's the limit for Alvarez.  He has pinpoint control, knows how to pitch, and reminds me of Greg Maddux in the way he goes about his business.
3: P Kyle Drabek: Overmatched as a rookie, but will have a very productive major league career.  This is one that got away!
4: 1B Anthony Rizzo: There were enough firstbasemen in this draft that proved it as rookies.  All this kid needs is a little more seasoning in the minors.  Soon his jerseys will be flying off the shelves at Wrigley, just like the balls he'll hit out onto Sheffield Avenue.
5: 2B Darwin Barney: It was a great year for rookie secondbaseman, with everyone taken being arguably better than Barney.  That said, this kid is not a stiff, and should get better as he matures, love his hustle!
6: OF Eric Thames: Did a solid job as a rookie, look for it to continue throughout his career.
7: P* Tim Collins: A little lefty with a big arm, a poor man's Billy Wagner.
8: OF John Mayberry, Jr.: A very athletic big man, who can pound the ball.  Not a star, but possibly a 4th outfielder in our league.
9: OF Allen Craig: Everyone knows this kid can hit, the perfect DH.
10: P* Bryan Shaw: A reliever with good control, balls, and knows how to get batters out.
2012 TRADE REVIEW
BAMM BEANOS send J.A. Happ to the MARAUDERS for Jonathan Herrera.  A 30 year old Northwestern lefthander for a 28 year old utility infielder, hmmm, these two guys aren't worth a second thought.  It's kind of a wash, except it seems like a utility infielder might be slightly more valuable than a pitcher looking for the plate.
BAMM BEANOS 6, MARAUDERS 4
KERNELS send #2 DC (Dee Gordon), #5 DC (Carlos Carrasco), & Pineiro to the Highlanders for Michael Young, Brian Sanches, & Jon Garland.  It comes down to Dee Gordon for Michael Young and while I love Dee Gordon, I have to call this trade even because of what this trade does for both teams.  Michael Young will really help the Kernels in their quest for another ring.
KERNELS 5, HIGHLANDERS 5
HIGHLANDERS send Jeff Keppinger & Chris Johnson to the BOMBERS for #4 DC (Mike McKenry) & Jayson Nix.  Keppinger & Johnson provide quality backups & coverage, and allowed the Highlanders flexibility in the draft.  While McKenry & Nix are a couple of bums out wondering if you have any spare change.
HIGHLANDERS 7, BOMBERS 3
KERNELS send Elvis Andrus & #4 DC (Javy Guerra) to the HITMEN for Hiroki Kuroda & Eric Young, Jr.  Here again, even though Andrus is a top flight SS and Kuroda is an aging starting pitcher, I'm going to call this a good trade for both teams.  The Hitmen get a big time player in Andrus & a future closer for 200 B innings and speed off the bench.  GO KEITH GO!!!
KERNELS 5, HITMEN 5
UPPERDECKERS send Jason Varitek to the BAMM BEANOS for #5 DC (Phil Humber).  Varitek provides a good hitting backup at catcher & then he goes away, while Humber helps round out the Upperdeckers rotation.  Slight edge Upperdeckers.
UPPERDECKERS 6, BAMM BEANOS 4
BOMBERS send Buster Posey & Yunel Escobar to the MARAUDERS for Adam Wainwright & Adam LaRoche.  Really Mom, they're magic beans!  Maybe Mike is trying to collect all the Adams in the league.  Seriously, a starting SS & the best young catcher in baseball for a pitcher coming back from major elbow surgery (although success from Tommy John surgery almost seems to be a given) and a bum firstbaseman.  Even if Wainwright does come back, the Bombers are taking all the risk here.
BOMBERS 2, MARAUDERS 8
BOMBERS send B.J. Upton & #2 DC (Kenley Jansen) to the UPPERDECKERS for J.J. Hardy & Todd Helton.  Hardy is the best player in this trade, and yet I have to give the advantage to Marc.  Upton gets on base, his card is always gonna be better than what he does in real life baseball because of his combination of speed, power, & walks.  The Upperdeckers needed a leadoff hitter, now the Bombers do.  Jansen gives the Upperdeckers another bullpen arm, while firstbaseman Helton is a stop gap measure at best.  The only plus for the Bombers is now Hardy is batting for him, not hitting against him.
BOMBERS 3, UPPERDECKERS 7
GAMBLERS send Howie Kendrick to the MARAUDERS for Yunel Escobar.  I know I told DonS that I liked Escobar, but I didn't know that would put him on the "trade immediately" list.  I know Kendrick plays for the Halos, but the Marauders have Uggla at 2B, while they could use Yunel at SS.  With Pedroia at 2B for the Gamblers it makes sense to move Howie for Jeter's eventual replacement.  Both players are virtually equal with the stick, one plays 2B, the other plays SS.
GAMBLERS 6, MARAUDERS 4