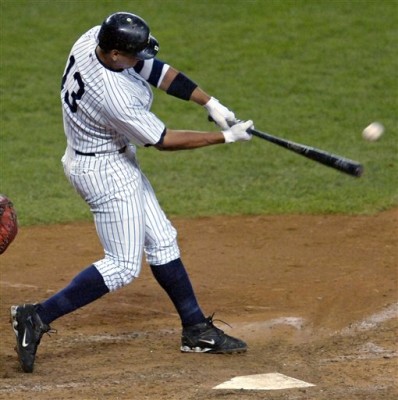 Alex Rodriguez ended last season sitting at 599.  So it was only a matter of time for the slugger to belt number 600. That time came in the 7th inning of game #2, facing Rising Bamm Beanos rookie righthander Ivan Nova.  It was a solo shot, which put the Chicago Champions up 3-0, in a game they'd hold on to win by the same final score, behind Matt Cain.
Alex is all about winning.  He has been a part of IAL Playoff ball in 13 of 16 seasons.  His team finished in first place in eight of those years, five times with 100+ wins.  AROD's teams have won five championships.  Remarkably he's only won one MVP Award, despite hitting 50 or more homers four different seasons, driving in over 100 runs in ten years, and nine times he scored 100 or more.
Rodriguez played his first nine seasons playing shortstop for the Northside Hitmen.  Then Alex moved over to the hot corner after he was dealt to the Chicago Champions in exchange for Miguel Cabrera.  314 of his homers were hit while playing for the Hitmen and to date 290 have been hit with the Champs.
Congrats to AROD on joining the 600 club, with many more to come!  I can still remember seeing him play with the Class A Appleton Foxes of the Midwest League way back in 1994.  It was Alex Rodriguez poster night, I still have the poster, and we even got a baseball card signed by the 19 year old.  Who knew he'd be playing for the Champions, I could only hope.  Way to go AROD!!!
| | | | | | | | | | | | | | | | | |
| --- | --- | --- | --- | --- | --- | --- | --- | --- | --- | --- | --- | --- | --- | --- | --- | --- |
| YEAR | CLUB | G | AB | R | H | 2B | 3B | HR | RBI | BB | SO | SB | HB | AVG | SLG | OBP |
| 1996 | HTMN | 45 | 76 | 12 | 17 | 3 | 2 | 1 | 4 | 5 | 19 | 2 | | .224 | .355 | .272 |
| 1997 | HTMN | 146 | 599 | 122 | 191 | 54 | 2 | 41 | 132 | 41 | 86 | 7 | | .319 | .621 | .363 |
| 1998 | HTMN | 141 | 561 | 86 | 151 | 27 | 11 | 21 | 82 | 33 | 97 | 21 | | .269 | .469 | .310 |
| 1999 | HTMN | 161 | 640 | 99 | 168 | 38 | 6 | 31 | 103 | 48 | 143 | 38 | | .263 | .486 | .314 |
| 2000 | HTMN | 126 | 500 | 103 | 143 | 27 | 1 | 30 | 88 | 51 | 97 | 14 | | .286 | .524 | .352 |
| 2001 | HTMN | 141 | 554 | 123 | 161 | 26 | 2 | 38 | 103 | 75 | 106 | 22 | | .291 | .551 | .375 |
| 2002 | HTMN | 159 | 632 | 143 | 187 | 32 | 2 | 53 | 107 | 82 | 119 | 18 | | .296 | .604 | .377 |
| 2003 | HTMN | 162 | 613 | 117 | 156 | 15 | 2 | 50 | 121 | 90 | 143 | 5 | | .254 | .530 | .350 |
| 2004 | HTMN | 158 | 606 | 143 | 161 | 25 | 11 | 49 | 104 | 88 | 132 | 23 | 18 | .266 | .586 | .375 |
| 2005 | CHAMPS | 155 | 579 | 92 | 140 | 26 | 3 | 32 | 83 | 73 | 149 | 33 | 3 | .242 | .463 | .330 |
| 2006 | CHAMPS | 162 | 589 | 130 | 156 | 28 | 2 | 50 | 128 | 64 | 149 | 26 | 21 | .265 | .574 | .358 |
| 2007 | CHAMPS | 154 | 564 | 98 | 142 | 28 | 4 | 28 | 86 | 104 | 120 | 9 | 2 | .252 | .465 | .370 |
| 2008 | CHAMPS | 158 | 564 | 116 | 138 | 22 | 1 | 45 | 128 | 90 | 117 | 23 | 25 | .245 | .527 | .373 |
| 2009 | CHAMPS | 137 | 493 | 100 | 140 | 25 | 0 | 44 | 118 | 76 | 111 | 19 | 16 | .284 | .602 | .397 |
| 2010 | CHAMPS | 123 | 431 | 90 | 106 | 12 | 0 | 50 | 102 | 66 | 88 | 19 | 7 | .246 | .622 | .355 |
| 2011 | CHAMPS | 137 | 494 | 69 | 135 | 30 | 0 | 36 | 81 | 54 | 85 | 5 | 2 | .273 | .553 | .347 |
| 2012 | Champs | 22 | 80 | 17 | 22 | 5 | 1 | 5 | 12 | 10 | 14 | 0 | 0 | .275 | .550 | .356 |
| 16 | Totals | 2287 | 8575 | 1660 | 2314 | 423 | 50 | 604 | 1582 | 1050 | 1775 | 284 | 94 | .270 | .542 | .356 |