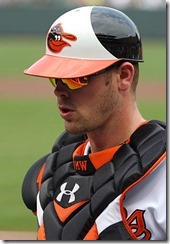 Wieters:  A down year for the Gamblers' catcher at .173
The best of the IAL have already been announced.  Here are the worst of the worst.  I've compiled some leaders of the worst stats in IAL history. 
The biggest story here is that five players in 2014 landed on the Top Ten Lowest batting average of all time.  All five batted the required 500 plate appearances to qualify. 
Hitting minimums: 500 PA per season, 1500 AB per career
Pitching minimums: 162 IP per season, 1000 IP per career
| | | | |
| --- | --- | --- | --- |
| Player | YEAR | CLUB | AVG |
| Preston Wilson | 2006 | Upperdeckers | .165 |
| Edgardo Alfonzo | 2002 | Highlanders | .167 |
| Matt Wieters | 2014 | Gamblers | .173 |
| Mark McGwire | 1990 | Thunderchickens | .174 |
| Brady Anderson | 1999 | Marauders | .182 |
| Asdrubal Cabrera | 2014 | Upperdeckers | .183 |
| Joe Carter | 1994 | Champions | .183 |
| Elvis Andrus | 2014 | Hitmen | .184 |
| Neil Walker | 2014 | Upperdeckers | .186 |
| Ryan Zimmerman | 2014 | Thunderchickens | .187 |
|   |   |   |   |
| Player | YEAR | CLUB | SLG |
| Elvis Andrus | 2014 | Hitmen | .225 |
| Ozzie Smith | 1981 | Thunderchickens | .255 |
| Bucky Dent | 1977 | Shooting Star | .262 |
| Omar Vizquel | 2002 | Sluggers | .267 |
| Bobby Grich | 1979 | Thunderchickens | .276 |
| Bill North | 1981 | A's | .277 |
| Luis Castillo | 2001 | Upperdeckers | .279 |
| Todd Zeile | 1993 | Thunderchickens | .280 |
| Don Kessinger | 1976 | Fire | .280 |
| Jose Altuve | 2014 | Oinkers | .281 |
|   |   |   |   |
|   |   |   |   |
| Player | YEAR | CLUB | OBP |
| Matt Wieters | 2014 | Gamblers | .211 |
| Mike Schmidt | 1976 | Champions | .212 |
| Butch Wyneger | 1977 | Cardinals | .217 |
| Bucky Dent | 1977 | Shooting Star | .225 |
| Bobby Grich | 1976 | Thunderchickens | .226 |
| Reggie Jackson | 1976 | Fire | .227 |
| Rick Burleson | 1976 | Champions | .228 |
| Bobby Grich | 1977 | Thunderchickens | .228 |
| Don Kessinger | 1976 | Fire | .228 |
| Ken Reitz | 1977 | Bums | .229 |
|   |   |   |   |
|   |   |   |   |
| Player | AVG |   |   |
| Steve Yeager | .197 |   |   |
| John Buck | .197 |   |   |
| Colby Rasmus | .203 |   |   |
| Gene Tenace | .207 |   |   |
| Jonny Gomes | .208 |   |   |
| J.J. Hardy | .210 |   |   |
| Charles Johnson | .213 |   |   |
| Todd Hundley | .214 |   |   |
| Matt Wieters | .215 |   |   |
| Pedro Alvarez | .216 |   |   |
|   |   |   |   |
|   |   |   |   |
| Player | SLG |   |   |
| Larry Milbourne | .278 |   |   |
| Don Kessinger | .283 |   |   |
| Elvis Andrus | .298 |   |   |
| Duane Kuiper | .300 |   |   |
| Larry Bowa | .308 |   |   |
| Bert Campaneris | .308 |   |   |
| Bill North | .312 |   |   |
| Jose Vizcaino | .313 |   |   |
| Bump Wills | .316 |   |   |
| Ozzie Smith | .317 |   |   |
|   |   |   |   |
|   |   |   |   |
| Player | OBP |   |   |
| Steve Yeager | .225 |   |   |
| Doug Rader | .243 |   |   |
| Don Kessinger | .245 |   |   |
| Rick Monday | .249 |   |   |
| Larry Milbourne | .259 |   |   |
| John Buck | .260 |   |   |
| Chris Speier | .261 |   |   |
| Ken Reitz | .261 |   |   |
| Alex Gonzalez | .263 |   |   |
| J.J. Hardy | .263 |   |   |
|   |   |   |   |
|   |   |   |   |
| Player | HR |   |   |
| Duane Kuiper | 1 |   |   |
| Don Kessinger | 3 |   |   |
| Larry Milbourne | 7 |   |   |
| Dave Cash | 8 |   |   |
| Alfredo Griffin | 9 |   |   |
| Greg Gross | 11 |   |   |
| Bill North | 11 |   |   |
| Bert Campaneris | 12 |   |   |
| Alex Trevino | 12 |   |   |
| Walt Weiss | 12 |   |   |
| min 1500 ab |   |   |   |
| | | | |
| --- | --- | --- | --- |
| Player | YEAR | CLUB | L |
| Erik Hanson | 1997 | Cardinals | 29 |
| Ed Whitson | 1988 | Phoenix | 28 |
| Livan Hernandez | 2010 | Bombers | 26 |
| Jose Rijo | 1987 | Phoenix | 25 |
| Bob Knepper | 1981 | A's | 25 |
| Brad Penny | 2012 | Hitmen | 25 |
| Rodrigo Lopez | 2004 | Gamblers | 25 |
| Ferguson Jenkins | 1984 | Thunderchickens | 24 |
| LaMarr Hoyt | 1985 | Mercenaries | 24 |
| Chris Bosio | 1988 | Phoenix | 24 |
|   |   |   |   |
| Player | YEAR | CLUB | ERA |
| Oliver Perez | 2006 | Upperdeckers | 9.09 |
| Charles Hudson | 1987 | Phoenix | 7.81 |
| Carl Pavano | 1999 | Cardinals | 7.67 |
| Pedro Astacio | 2003 | Sluggers | 7.62 |
| Danny Patterson | 2000 | Bombers | 7.59 |
| Neal Heaton | 1989 | Mercenaries | 7.57 |
| Justin Masterson | 2011 | Kernels | 7.52 |
| Masato Yoshii | 2001 | Champions | 7.52 |
| Rolando Arrojo | 2001 | Thunderchickens | 7.51 |
|   |   |   |   |
| Player | ERA |   |   |
| Darren Oliver | 5.98 |   |   |
| Mark Hendrickson | 5.68 |   |   |
| Julian Tavarez | 5.63 |   |   |
| Cal Eldred | 5.58 |   |   |
| Bruce Ruffin | 5.56 |   |   |
| Ramon Ortiz | 5.47 |   |   |
| Frank Pastore | 5.46 |   |   |
| James Baldwin | 5.42 |   |   |
| Oliver Perez | 5.38 |   |   |
| Charles Hudson | 5.37 |   |   |
Tom