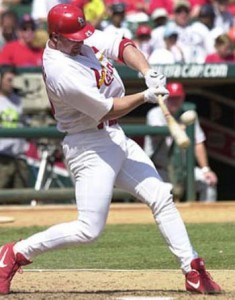 | | | |
| --- | --- | --- |
| Mark McGwire | Firstbaseman | inducted in 2004 |
Drafted by the Twin City Thunderchickens in 1988, Mark McGwire hit 54 homeruns (a rookie record) and drove in 166 runs in addition to hitting .314 and scoring 122 runs.
In 1999 everything seemed to go right, McGwire had a monster year, he entered the last game of the season tied with Rafael Palmeiro for the IAL single season record of homeruns with 69, Mark hit #70 in his last at bat.  In addition, he had career highs in runs (138), rbis (174), and walks (152).  The Twin City Thunderchickens were spirited away to victory, with a 2nd place finish, and an IAL World Championship.
It would seem difficult to repeat the excitement of 1999's homerun race, but McGwire didn't disappoint in 2000.  Once again, he entered game 162 tied with the record he had set the year prior. And once again, dramatics prevailed as he waited until his very last at-bat of the season to break his own record.  That record stands today.  McGwire also banged out 159 rbis to go with his 71 homeruns.
In 2002, McGwire hit a homerun in his last at-bat of his career.
Mark McGwire finished with 591 career homeruns, second all-time. At the time of his induction he was 6th in RBIs with 1,436, fourth in walks with 1,162, and was third in slugging percentage.
| | | | | | | | | | | | | | | | |
| --- | --- | --- | --- | --- | --- | --- | --- | --- | --- | --- | --- | --- | --- | --- | --- |
| YEAR | CLUB | G | AB | R | H | 2B | 3B | HR | RBI | BB | SO | SB | AVG | SLG | OBP |
| 1988 | TCHIX | 151 | 554 | 122 | 174 | 25 | 2 | 54 | 166 | 85 | 122 | 0 | .314 | .659 | .405 |
| 1989 | TCHIX | 150 | 549 | 73 | 131 | 19 | 5 | 28 | 87 | 62 | 122 | 0 | .239 | .444 | .316 |
| 1990 | TCHIX | 138 | 483 | 59 | 84 | 22 | 0 | 26 | 64 | 66 | 93 | 0 | .174 | .381 | .273 |
| 1991 | TCHIX | 154 | 520 | 88 | 120 | 20 | 1 | 44 | 106 | 102 | 116 | 0 | .231 | .527 | .357 |
| 1992 | TCHIX | 151 | 483 | 54 | 93 | 26 | 0 | 23 | 63 | 95 | 120 | 0 | .193 | .389 | .325 |
| 1993 | TCHIX | 136 | 467 | 85 | 110 | 14 | 2 | 41 | 107 | 69 | 109 | 0 | .236 | .537 | .334 |
| 1994 | TCHIX | 26 | 84 | 23 | 23 | 3 | 0 | 10 | 18 | 22 | 24 | 0 | .274 | .667 | .425 |
| 1995 | TCHIX | 66 | 67 | 5 | 14 | 4 | 0 | 3 | 6 | 13 | 23 | 0 | .209 | .403 | .338 |
| 1996 | TCHIX | 112 | 319 | 83 | 81 | 8 | 0 | 43 | 92 | 99 | 84 | 0 | .254 | .683 | .431 |
| 1997 | TCHIX | 126 | 423 | 100 | 135 | 20 | 0 | 53 | 125 | 91 | 101 | 0 | .319 | .742 | .440 |
| 1998 | TCHIX | 155 | 548 | 99 | 140 | 25 | 0 | 56 | 131 | 83 | 149 | 0 | .255 | .608 | .353 |
| 1999 | TCHIX | 155 | 508 | 138 | 144 | 23 | 0 | 70 | 174 | 152 | 148 | 1 | .283 | .742 | .448 |
| 2000 | TCHIX | 146 | 518 | 113 | 149 | 19 | 0 | 71 | 159 | 104 | 127 | 0 | .288 | .736 | .407 |
| 2001 | TCHIX | 85 | 234 | 72 | 77 | 11 | 0 | 39 | 81 | 75 | 77 | 0 | .329 | .876 | .492 |
| 2002 | TCHIX | 91 | 279 | 52 | 64 | 2 | 0 | 30 | 57 | 44 | 117 | 0 | .229 | .559 | .334 |
| 15 | Totals | 1842 | 6036 | 1166 | 1539 | 241 | 10 | 591 | 1436 | 1162 | 1532 | 1 | .255 | .592 | .375 |