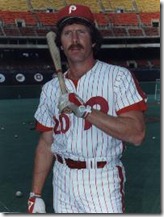 The Illowa APBA League was founded back in 1975.  That's a long time.  We still have two of our original managers with us.  Five of our managers have been around since 1980, which I think is pretty admirable.
Long story short, we have a storied history and have a done a lot of work to keep it documented.  With a lot of work from Tedd Mallasch, who did a lot of data entry of our early yearly league stats, and commissioner Mike Bunch, who organized and sorted so it made sense, we have a pretty cool registry of every player and pitcher who every played in the IAL going back to the days of Hank Aaron, Larry Hisle and Ron Santo.
The registry allowed us to sort and filter data which means we could do cool things like find out all-time career leaders and all-time single-season leaders in all categories.
Cal Ripken shows up in a lot of all-time lists.  He should.  Not only has he played 20 years in the IAL but he leads the IAL in most games played (2935) and at-bats (10,822).  Which is why he's in the Illowa APBA League Hall of Fame.
We began the IAL Hall of Fame in 1996 to honor the IAL players (and in one case, a manager), who have done especially well in our league.  The managers of the IAL found the two charter members easy to choose.  They were Mike Schmidt (535 homeruns, a lot back then!) and Steve Carlton (248-148 W-L record).  Carlton's stats may have been eclipsed by recent legends Roger Clemens and Greg Maddux but back then there was no one more feared in the Illowa APBA League.
So enjoy looking through our long history.  Personally, it's something I enjoy doing every so often, because it brings up so many fun stories from our league's past.